Your customers need IT hardware support now more than ever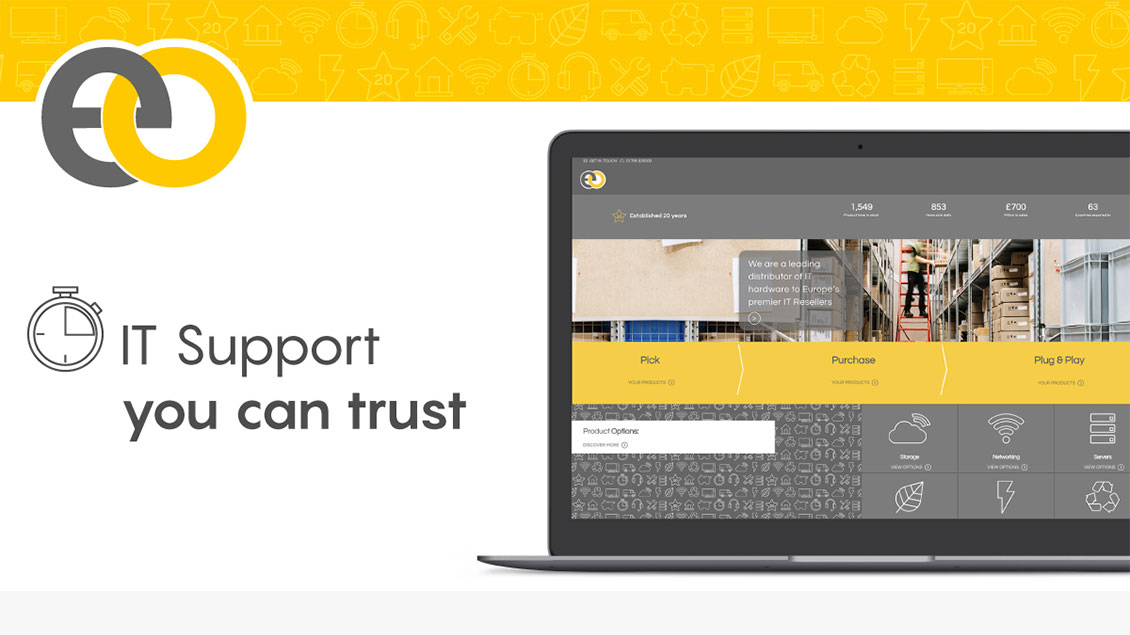 While many industries have felt the pressures of Covid-19 and the global pandemic, IT sales have sky-rocketed with certain popular product types like laptops, graphics cards and monitors seeing massive surges in demand. However, all these extra hardware sales present a new question – what can your customers do when things go wrong?
With so many staff now working from home, their ability to find answers to issues, or even "how-to"s is more complex than before. They can't quickly ask the expert on the other side of the office and Google won't necessarily have a straightforward answer. Never mind the fact that staff shouldn't be wasting their precious time troubleshooting and guessing at solutions.
IT support is a vital aspect of your service
Why choose EO for support?
The chances are that many-to-most of your customers' staff wouldn't be confident in solving a technical issue themselves anyway. They may not even be able to, in scenarios like hardware issues, warranties or cloud services. Therefore, they will require external assistance through maintenance services or telephone support.
Then there are stumbling blocks around multi-vendor support, delivering hardware maintenance and support remotely and dealing with complex ticket systems, to name but a few.
But don't worry, Euro Options' 3rd party hardware support is available for all our partners, enabling you to offer technical support for a wide range of hardware products from all major vendors. Plus, with a single point of contact, your customers won't be frustrated by long delays or a lack of updates.
Fully branded for your business
Extend the life of your hardware
Tailored to your requirements
Define your customers' new normal
By offering Euro Options' wide range of hardware support services, you can help provide an extra level of assurance for your customers. And in turn, increase their confidence to adopt new products and services from your portfolio, becoming a trusted advisor that will be invaluable for your customers, looking to succeed through 2021 and beyond.
Open-ended questions to ask your customers, such as 'How do you manage all your hardware?' and 'How do you solve technical issues with staff hardware?' will start off the conversation and help you approach the subject of remote management and technical support. Not only providing you with an avenue to explore new services for your customers, but just as importantly, proving the fact that your business is genuinely passionate about the success of your customers.
Our service can fully white labelled with your own branding. Meaning customers needing IT support believe 'you' are the ones answering their call to troubleshoot and fix any hardware; including desktops, laptops, servers, storage, networking and any other tech they may need. This will save you time, with less customer complaints and frustrations, but also build your brand credibility. Helping to increase the likelihood that customers will recommend your services to their commercial partners and friends.
Euro Options' 3rd party hardware support maintains the highest levels of service, the broadest range of supported hardware and superfast fix times. So, what's stopping you? Book a meeting today and discover how Euro Options can help you support your customers better, when they need it the most.