Spreading joy this Christmas time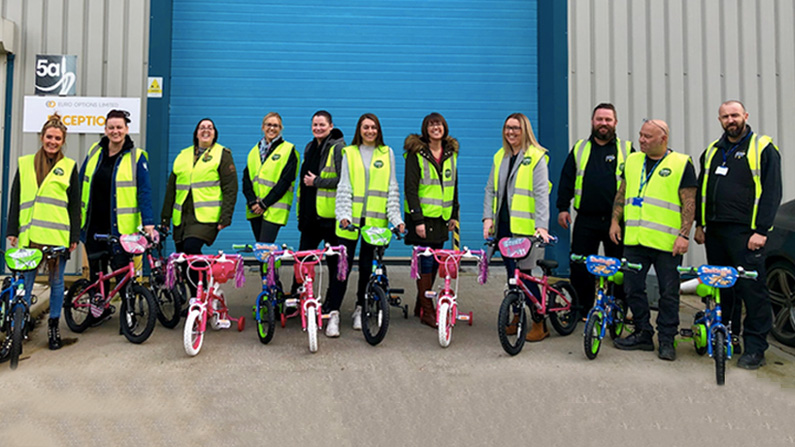 We believe there is no better time to give a little back than at Christmas – a period which for those fortunate enough, is one of the happiest times of the year. Sadly, for many others it's not a fun-filled time of celebration and parties. Whilst preparing for Christmas in the Euro Options office, we put our heads together to think about an initiative we felt passionate about supporting which could benefit the local area.
Supporting local cared for children matters
We decided that it would be a great idea to donate Christmas gifts to local cared for children in Rochdale, Greater Manchester, the borough in which Euro Options is based. Bikes seemed like a great idea and so ten shiny, new bikes in pink and blue were purchased and delivered to children's services at Rochdale council.
Whilst the company were responsible for purchasing the bikes, the staff also kindly clubbed together to purchase helmets and bike pumps.
Councillor Kieran Heakin, Rochdale Council's cabinet member for children's services, said: "We are so grateful for this donation; it is such a kind thing for Euro Options to do entirely off their own back. I am so pleased that another local organisation is showing generosity to our cared for children and shows the boroughs is committed to giving those in care the best opportunities." 
As a company we were delighted to be able to make a small difference to children who have been through so much and we endeavour to support the children's services moving forward, with the work they do being so very important. These are the most vulnerable people in our community and it has been wonderful to bring a little Christmas cheer.
An employee at the children's social care department within Rochdale Borough Council said:
"Yesterday I had the pleasure of taking one of the bikes kindly donated, downstairs to a child who had come in with her carer to collect it. The carer had not told her why they were visiting the office. She had only just told her about the bike when I walked through the door with it.
"The little girls face was a picture and she could not believe her eyes when she saw the pink bike and she squealed in delight, she was so excited. She asked me if it was for her and I said yes. She told me it was her birthday in two days' time and that she didn't have a bike. I showed her the helmet too and she was giggling with excitement as the helmet was pink. She asked me if she could sit on the bike and she tried it out for size.
"She hugged my leg and said thank you. The little girl's face said it all, I felt like Santa Claus. It certainly made my day. The kindness shown in donating the bikes is so greatly appreciated."
You can read the full article as covered within Rochdale Online, here.
For more information about fostering and how you can get involved, please contact the children's social care department at Rochdale Borough Council on 0300 303 1000 or get in touch via email: enquire@fosteringforrochdale.co.uk. More information can also be found online: rochdale.gov.uk/fostering